The race for NFTs is on – In this NFT rally, Bitcoin finally seems to have gotten the start over the past few weeks with Ordinals. However, Litecoin does not intend to be left behind and takes the wheel. While we believed the domain under Ethereum hegemony, it is an avalanche of images of all kinds that have flowed in recent weeks on the Bitcoin (BTC) blockchain. And it now has Litecoin in its rearview mirror. Decryption.
After Bitcoin, NFT Ordinals invade the Litecoin blockchain
A tornado, a cataclysm has taken hold of the Bitcoin network in recent weeks: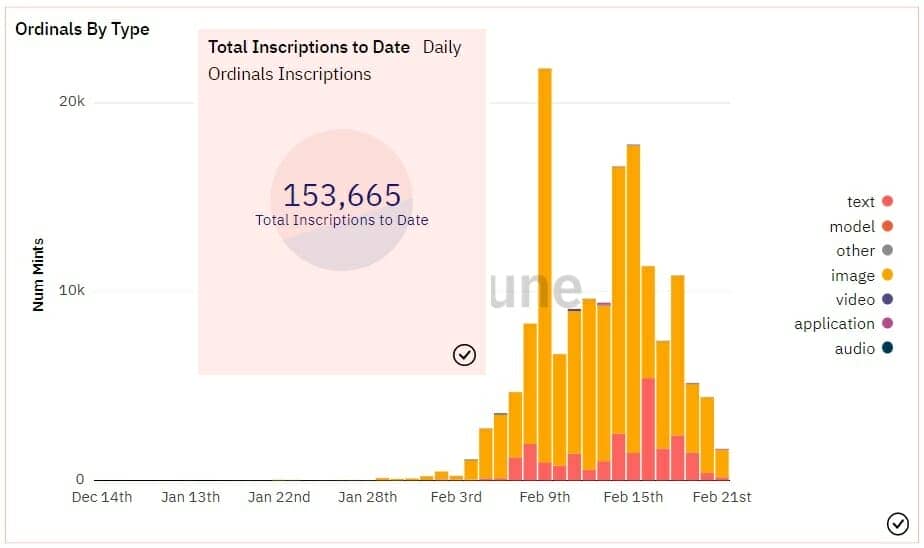 And there is a network, an evil twin or a brother in arms depending on your point of view, who also intends to grab a share of this delicious cake. THE Litecoin network, one of the oldest blockchains launched in 2011 by Charlie Lee. The epic is very recent, it begins on February 10 with a post on Twitter. The latter promises 5 LTC (cryptocurrency of the Litecoin blockchain) to who will manage to migrate the Ordinals on the famous twin network.
"5 LTC to whom transfers (Ordinals) on Litecoin. »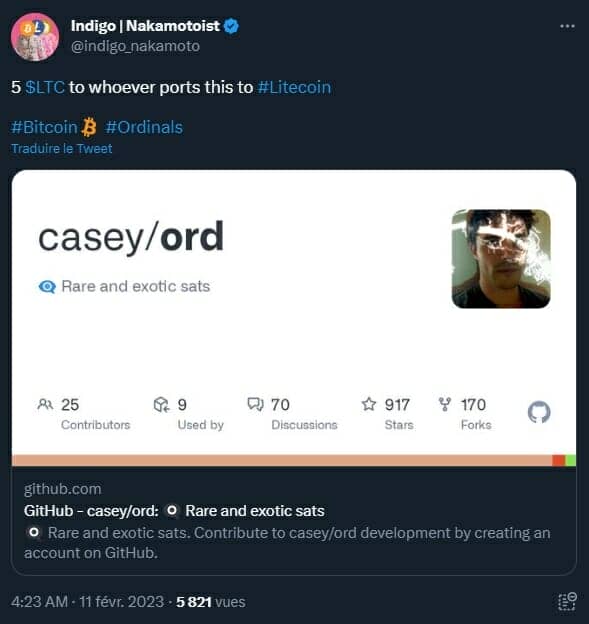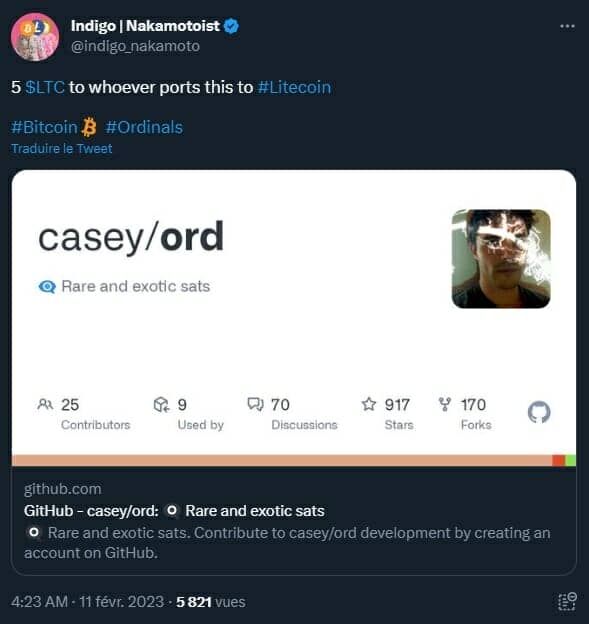 In the meantime, the premium of 5 LTC has increased to 22 LTC, which is a nice $2000 or so at today's price. Enough to interest computer engineer Anthony Guerrera. This one has published its fork of Bitcoin Ordinals on GitHub last Sunday.
A first symbolic NFT for Litecoin
"I was initially motivated by the bounty (from indigo_nakamoto on Twitter) and several others put up for anyone who knows how to implement Ordinals on Litecoin. I contacted him about a week ago to tell him about my participation in the challenge. »

Anthony Guerrera
The programmer wasted no time and included the very first NFT Ordinals on the Litecoin network. It's about MimbleWimble whitepaper, a name that comes straight from the Harry Potter universe. A spell that ties its target's tongue to prevent it from speaking.
You may have understood it, in the case of the Litecoin network, MimbleWimble is actually an update. She allows to enhance network privacy, but also to increase the size of transactions. A godsend for those who would like to store NFT. And a rather adequate nod from Anthony Guerrera.
For Guerrera, Litecoin is the perfect blockchain for Ordinals, as it is able to accept a larger data load at a lower cost than Bitcoin. But will that be enough to steal the show from the world's first blockchain ? Only the future will tell us.