Have you heard of a blockchain for dentists and patients? Well, that's what Dentacoin is for. I like cryptocurrencies when they target a very defined community. Indeed, this is because I believe in "community coins" (like Pawtocol). My view on this kind of tokens is that, yes, specific groups of individuals will have their own economy and medium of exchange in the future. Those cryptos are spreading fast and, in my opinion, the regulation will have to be flexible to not kill a trillion dollar economy: as a consequence, I invest in them. In this article, I analyze Dentacoin: a very serious community project for oral health. And before starting to read, make sure you get yourself a good health insurance!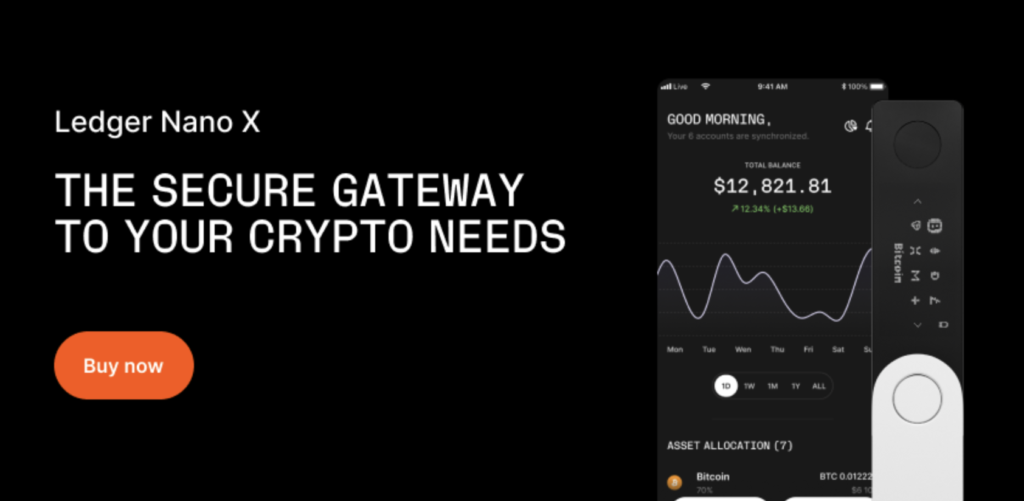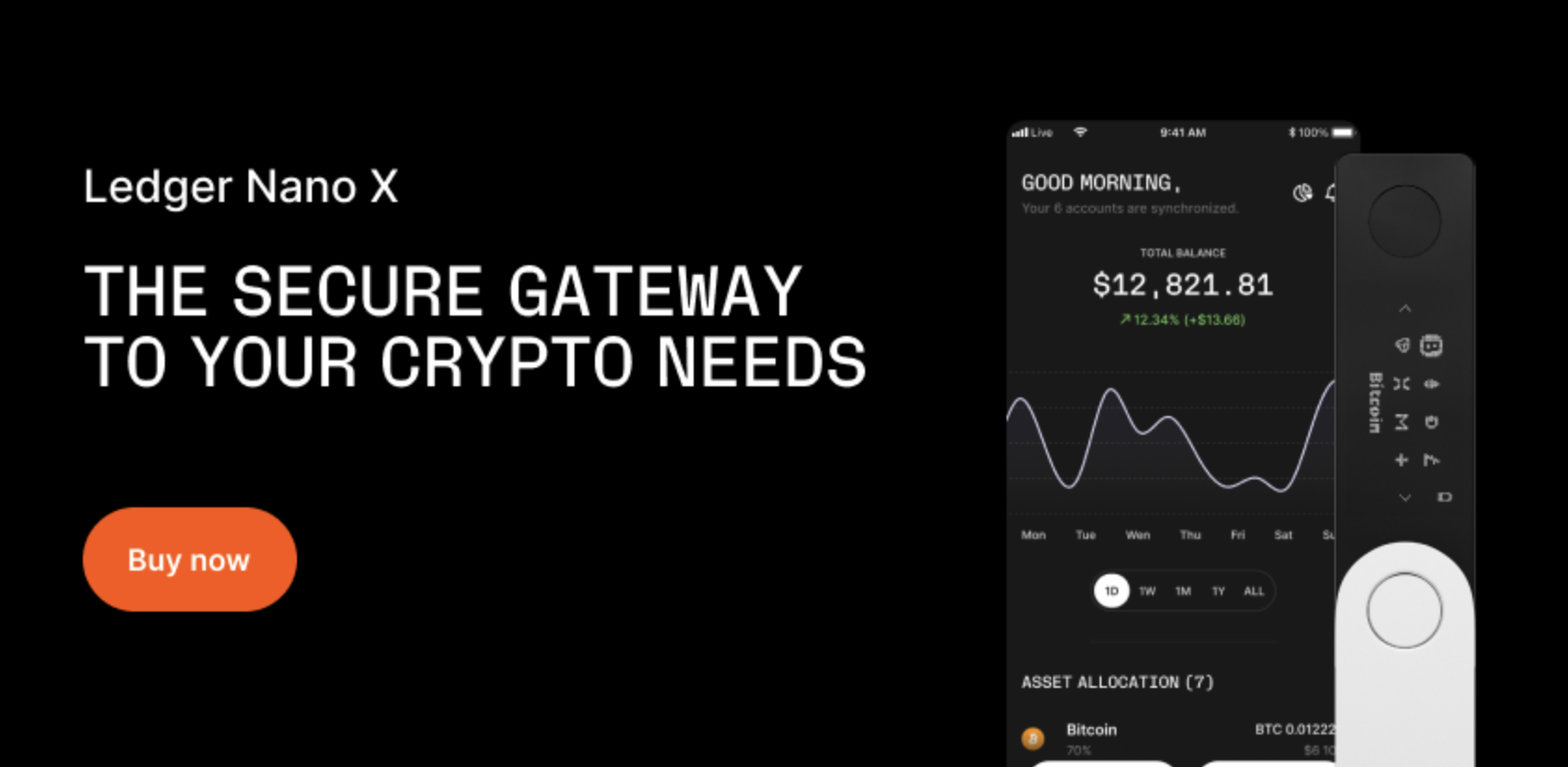 1. What is Dentacoin?
Dentacoin is the Bitcoin of dentistry. In other words, it is a cryptocurrency designed exclusively for dentists and patients. The idea may sound weird, but the fact that it is sector-specific makes it understandable with a very clear use case. But what is wrong with the current way the industry works today?
Well, this diagram sums it up: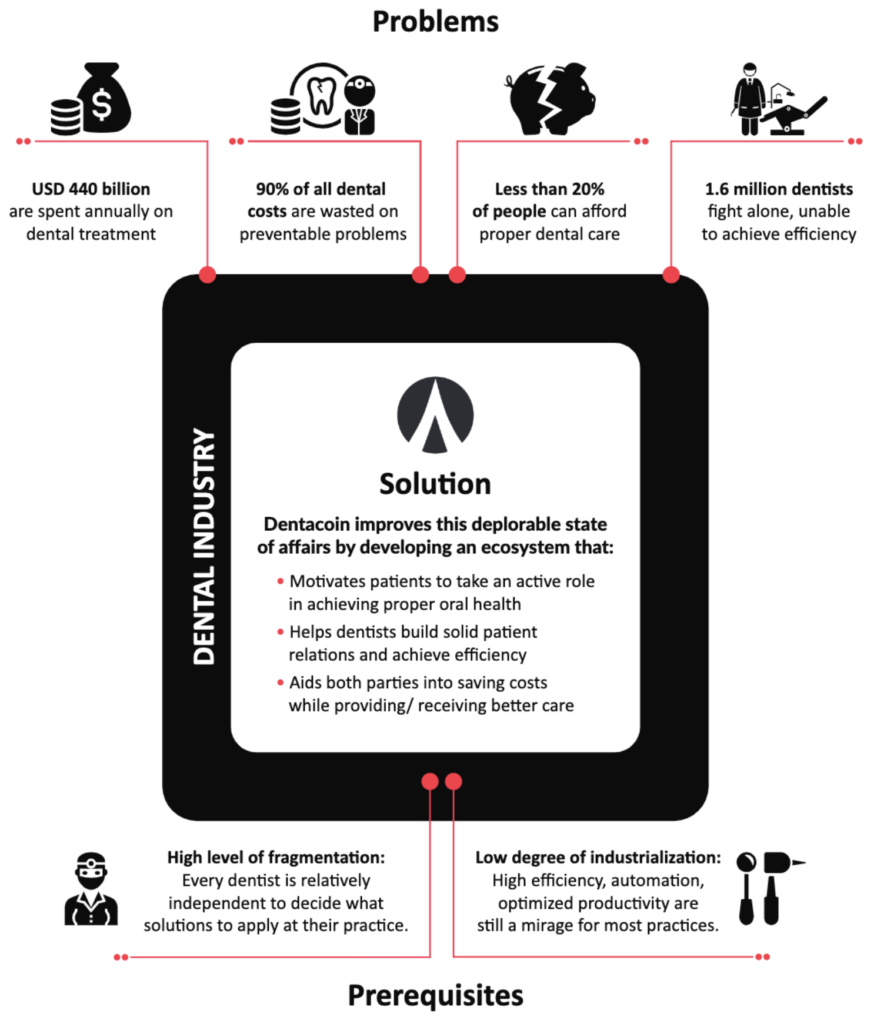 I know that it sounds big but, yes, it's 440 billion USD spent annually on dental treatments. But the most shocking thing is that only 20% of people can afford these treatments. Dentacoin is here to motivate patients, reduce the costs and build an ecosystem to avoid these problems. This is achieved through a magic triangle: app, currency and insurance.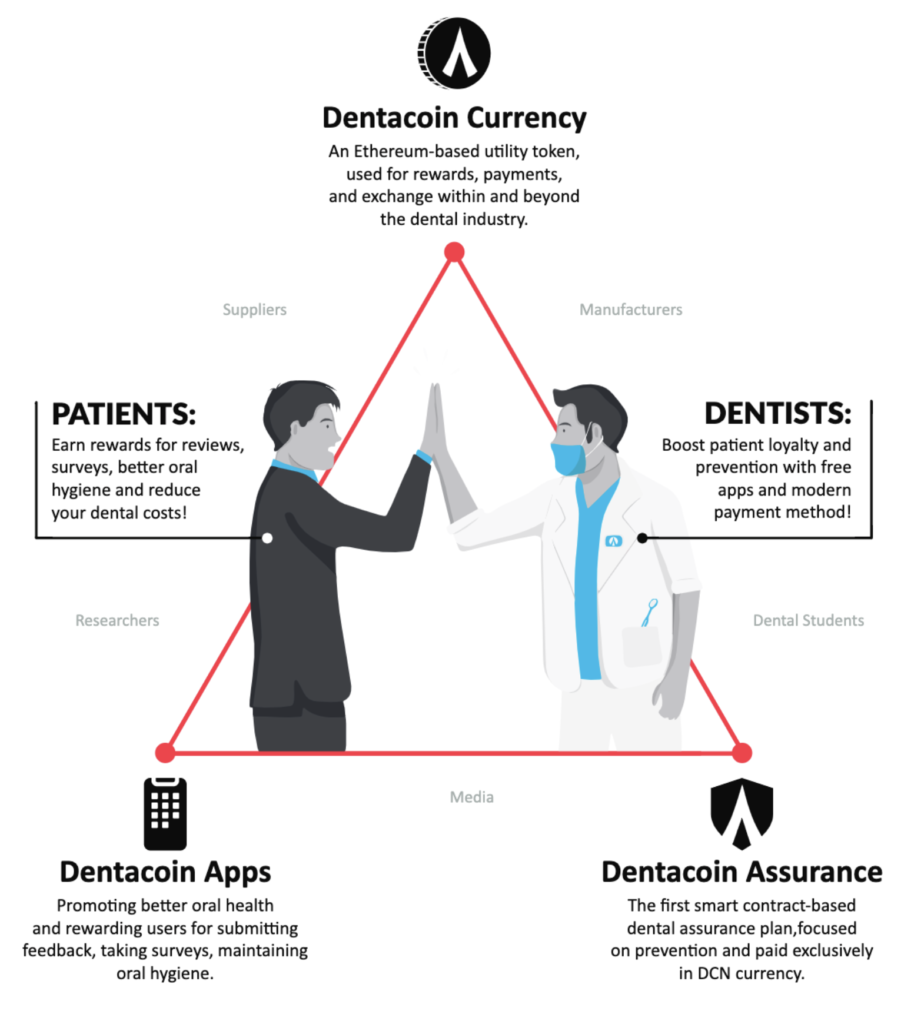 3 revolutions: first, a DCN token accepted by more and more dentists. Then, an application allowing you to earn DCN tokens through feedback. Finally, a smart contract-based assurance paid in DCN. We're at the beginning of the adoption phase as 148+ locations are already accepting DCNs and 285k+ transactions already occurred: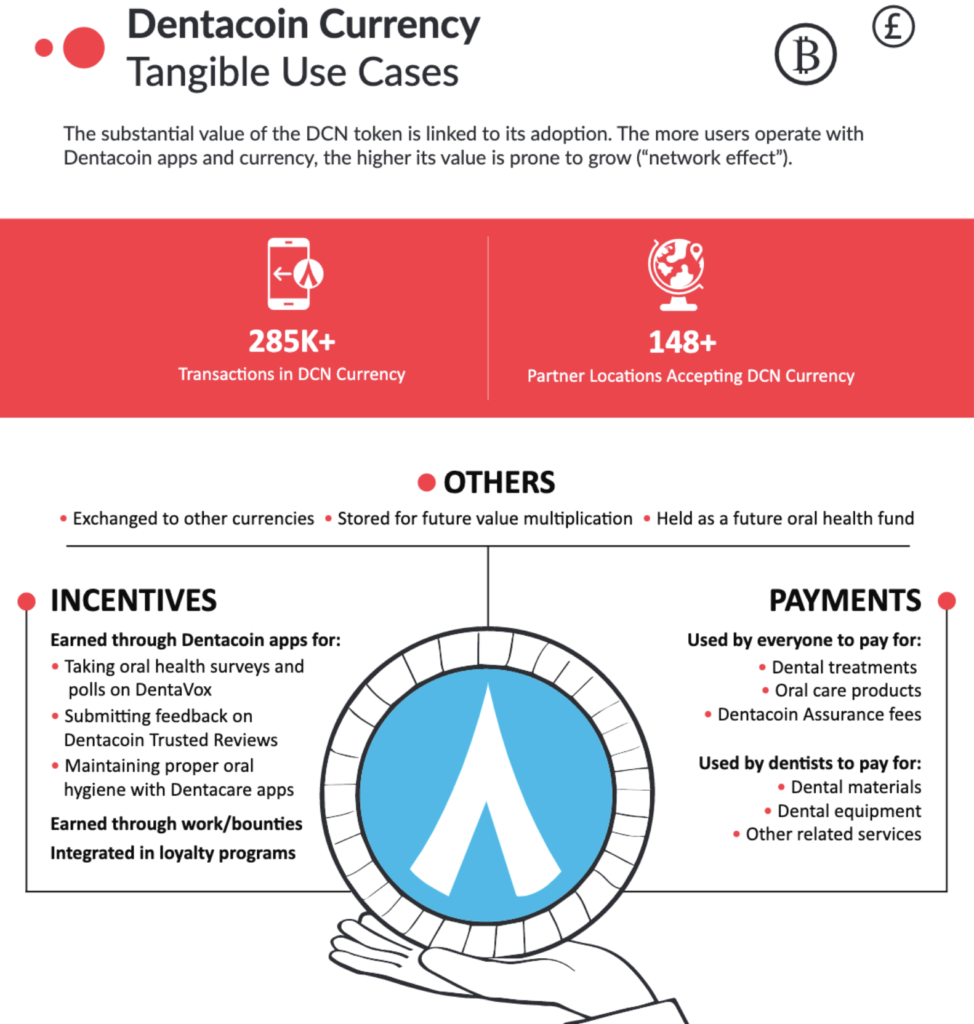 It's 1m+ users with 2k+ dental offices which is quite impressive: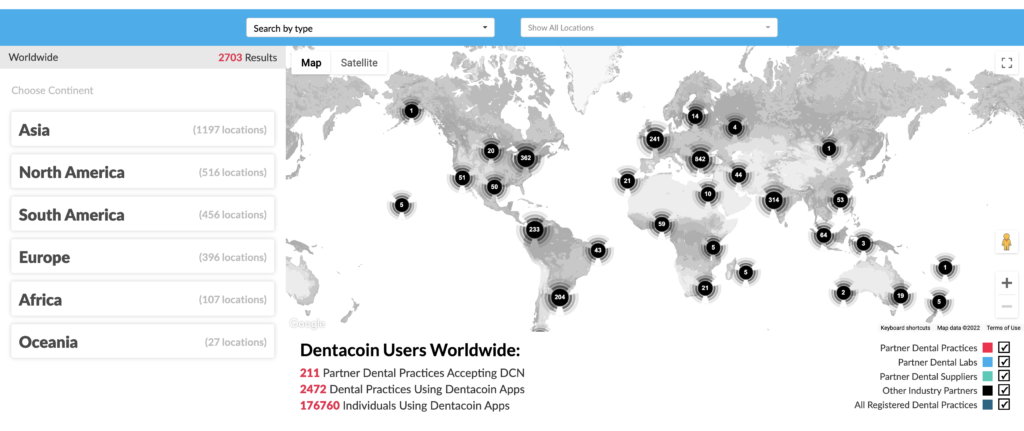 Dentacoin Assurance is the first dental assurance plan, based entirely on direct smart contracts between patients and dentists. It focuses on prevention rather than acute treatments and is exclusively paid in DCN currency. Everybody is happy:
Dentists get paid for prevention and better care. Also, they receive additional monthly income in DCN.
Patients receive lifelong, preventative services. They also pay affordable monthly fees in DCN.
2. How to use it?
Nothing's better than a short video tutorial explaining how to setup a Dentacoin wallet:

In short, you can go on their wallet website and create a new wallet here: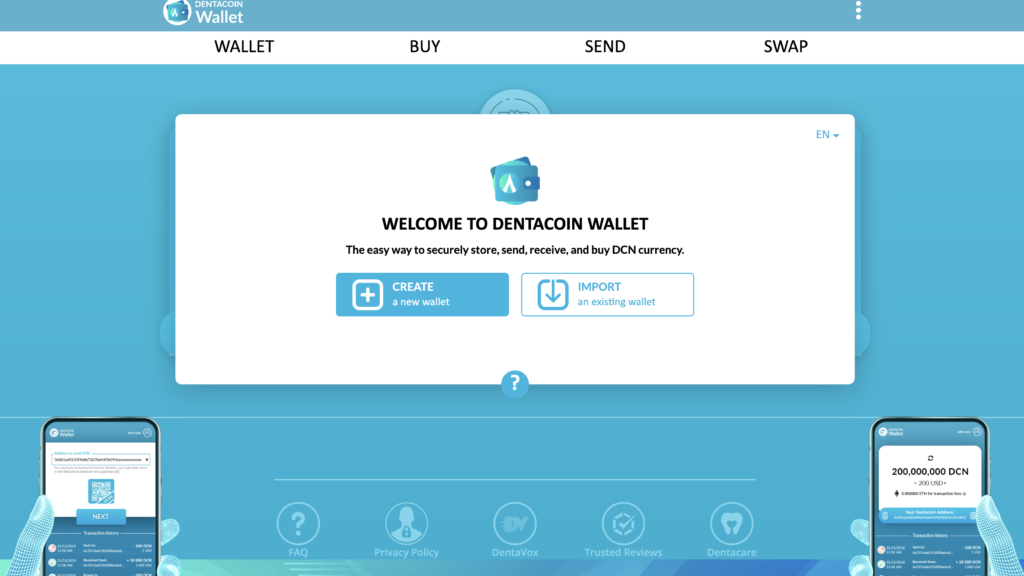 Or download the app on the App Store. You can then buy, send or swap DCN tokens:

3. The team and the project
The founding team is diverse with technical academic experience, blockchain background and law background: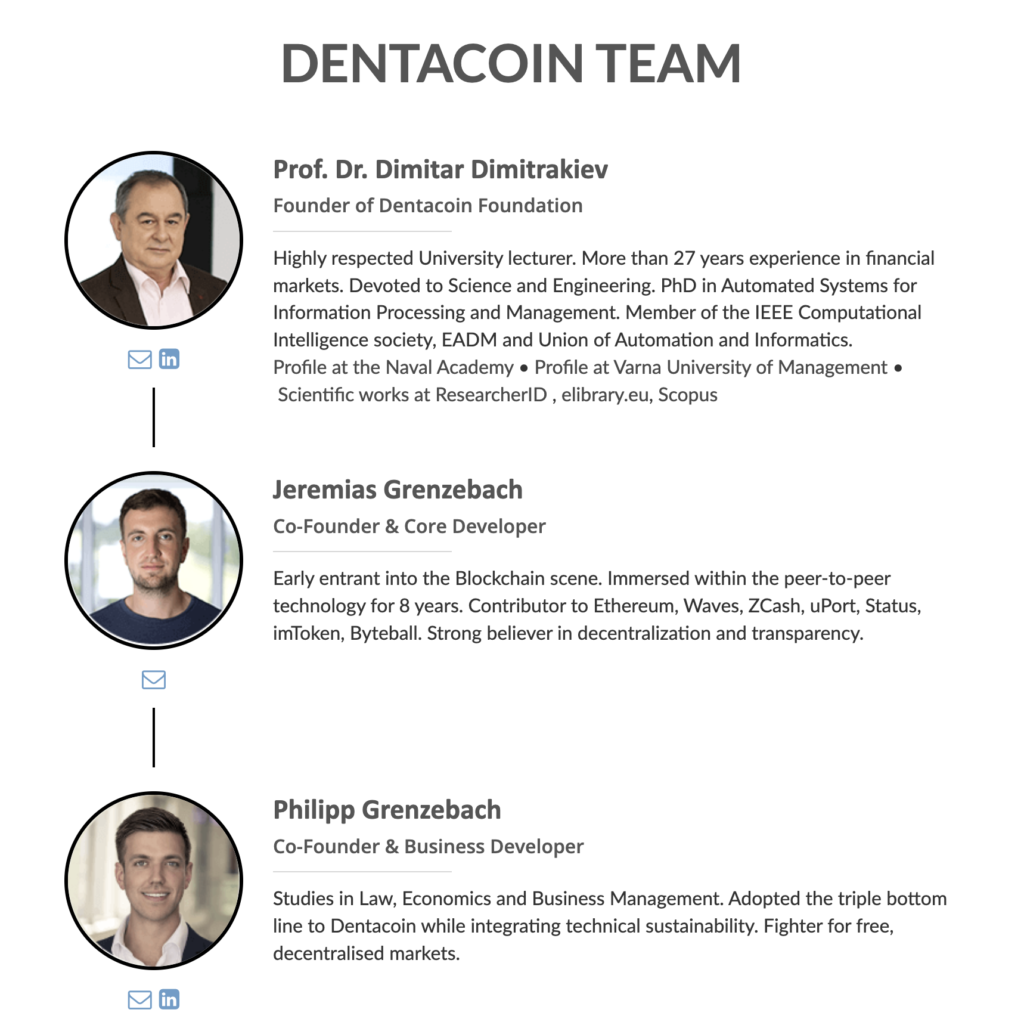 Now, the advisors are coming from the dental world which is really important in my opinion:
As usual, I like to look at the activity on their Github and I like what I see, the last updates are from last week: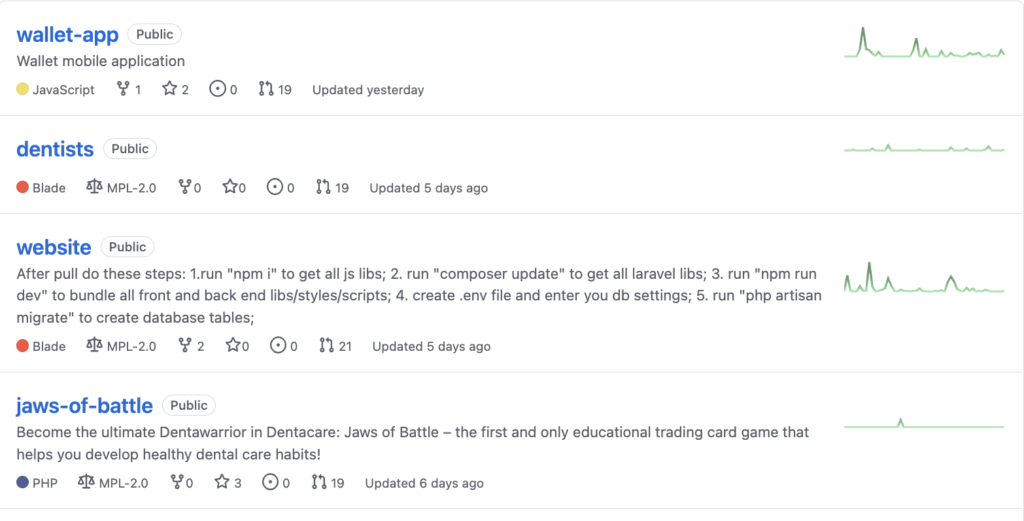 However it's fair to say that the number of contributors is fairly limited, I saw 2 of them so far: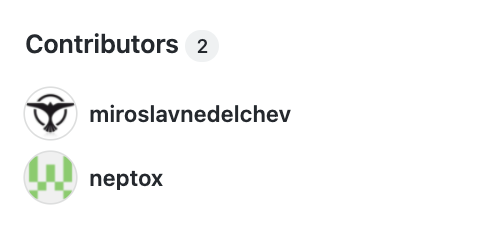 In term of partners, I like to see these numbers for a very small coin, that's a bit of adoption:

Some quotes from users:
For example: "Dentacoin gives a platform for patients and dentists to connect and build stronger relations. I am convinced that nothing is more important than developing a community. ", shares Dr. Tripathy from Dr. Grin Dental Hub
Also: "Dentacoin can help me to promote dental health more efficiently through patients", shares Dr. Jagdambey Gupta. He recently started developing the online presence of his practice, and he believes that DCN adoption can serve him greatly in this process.
Finally, a last one: "The main focus for me has always been the client – and I am sure my patients can benefit by DCN adoption.", shares the latest Dentacoin Partner Dr. Mohit Makkar, from The Dentist Clinic.
4. Dentacoin as an investment
The DCN token is a flat line: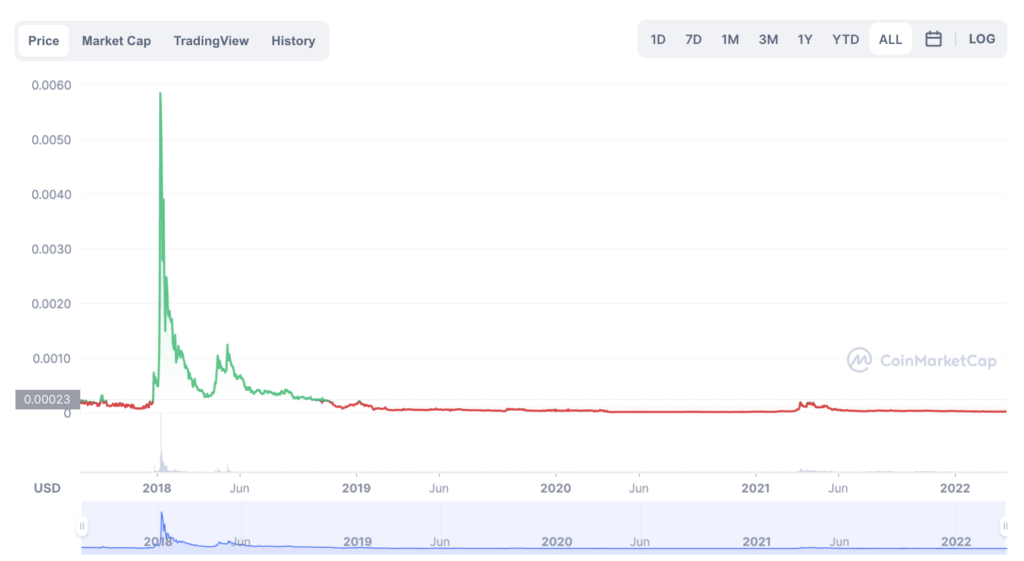 With a flat number of unique addresses


In a word: yes, it is a very, very risky coin. Why am I talking about it then? Well because:
On this website, I'm after very small market capitalization with potential. Here, is a 7 million USD market capitalization token when the dental insurance industry will be valued 290 billion USD in 2027. I quote: "the demand analysis of Global Dental Insurance Market size & share revenue was worth about 168.27 (USD Billion) in 2020 and is predicted to grow to around 289.85 (USD Billion) by 2027, with a compound annual growth rate (CAGR) of around 10.65% between 2021 and 2027. This industry does not include reinsurance of dental plans; nonetheless, revenue from all dental insurance providers, including commercial health insurance, Medicare, and Medicaid, is included".

This is a 40,000x between the market cap of the sector and the market cap of the coin (I'm used to 5000x kind of ratios if you check all my other articles). To me, this means that the potential reward for the massive amount of risk you take is … potentially even more massive. It's important to quantify the risk-reward ratio when you invest to know what you're actually getting invested into. Here, it's a brutal all or nothing, I can't really imagine a middle ground.
5. Conclusion
Dentacoin is a nice project tackling the problem of costs and trust in the dental industry. The team looks impressive while the tockenomics and the Github activity are a bit more debatable. However, the potential reward on this coin is mind-blowing because the costs in the sector are skyrocketing. There is a 40,000x between the projected market cap sector and the market cap token which is considerably higher than anything I've seen so far based on a product that is live and deployed. Don't get me wrong: DCN is the very "tail of the risk curve", I will allocate a very small amount of funds on it to be part of the journey that could lead to an insane amount of alpha if it does not go to zero.

Thanks for reading.
Disclaimer: this is not financial advice